Solutions
IBM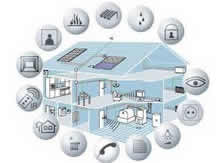 S
With Integrated Building Management System, we take a leap towards next-gen security. We make not just your homes and work premises safe with our skilled personnel, but also ensure that the environment is cared for. This is a Green Building that consumes miniscule energy and gives you real-time control. The sensors, gauges, panels and switches are immaculately selected and integrated into a proficient system.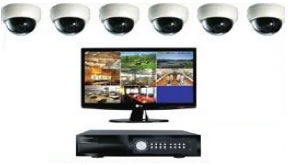 Visual inspection is one of the most primary and effective techniques of vigilance. A CCTV helps in both, prevention and detection of crime, in the following ways:

Deterrence

Mere presence of well-functioning CCTV cameras is a deterrent for thieves. It creates doubt in the criminal's mind and does the all important job of prevention.
Detection

With the help of this technology, GUARDFORCE monitors every activity in your premises. Footage for every second is backed up and any suspicious movement is tracked down.
Monitoring

IIt is important to keep an eye on any inappropriate customer or employee behaviour. Your work premises are freed from every kind of risk with CCTV.
Protection

GUARDFORCE takes responsibility of the security of every employee, every individual in your office area. CCTV protects them from any menacing attack.

Indemnity

A hazard has side-effects like fraudulent claims that prove doubly expensive for your enterprise. Such risks are cut down with CCTV.
An official space needs to be isolated for a number of reasons. Security acquires a multifold importance here. Access control gives the power to deny entry to anybody and everybody in such a space. It makes you exclusive in the following ways:

Visitor Management

This is for employees, workers and maintenance people. The features include:

Use of high-end technology with electronic locks, card readers and
biometric devices to record entry and exit
Software and camera printer to keep accurate records
Efficient and quick

Outdoor Access Control

This is for access control on entrance gates, in parking spaces and sensitive areas. The installations are:

Boom barrier, auto sliding door and road blocker
Biometrics and face identification for special departments
Time and Attendance System
For employees and more importantly, employers! The facilities it offers are:
Records when an employee entered and left the office. Automatically calculates working hours and generates summary reports.
E-time Track software for department-wise data about overtimes and payments.
A mammoth storage capacity of 1,00,000 to 5,00,000 transitions.
Control from any floor, any corner with LAN/WAN.
Intrusion Detection
This is for all those unwanted guests...the thieves, the robbers, the burglars...the intruders! Components of the system are:
Magnetic contact sensors to trace any glass break, motion, vibration and even a beam.
Audio annunciation against any kind of breach.
SMS alarming personally about an attack on security.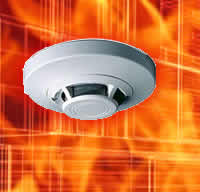 Fire Alarm System
Fire is the most damaging and uncontrollable threat to the security of a building. GUARDFORCE looks at fire safety as a methodical job. We sort it out to make detection, alarm alerts and suppression as defined and substantial work areas.
Fire Detection and Alarm System
Our systems smell the slightest of smoke and raise the loudest of alarms! We offer:
Complete fire solution with conventional, hybrid and addressable fire systems.
Diverse equipments in photo-electric smoke detectors and UV detectors, for every kind of danger.
Fire Fighting System
We are observant and careful in the preventive methods but ferocious when it comes to fighting fire! Our weapons are:
Sprinkler and hydrant systems to curb fire at its root
Manual and automated operation.
Fire tenders and extinguishers with massive force to attack vast fires.
Fire Suppression System
The system works on the scientific principle of breaking the fire triangle of oxygen, fuel and heat. The salient features are:
Intelligent use of gases like Argon, CO2 and Aragonite to suppress oxygen.
Customised, project by project design as per BS/EN systems.
Protects crucial and expensive areas like servers and telecom rooms.
Fills up entire space for complete protection.
EPBAX Systems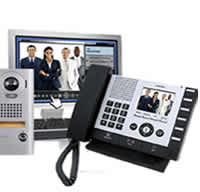 Electronic Private Automatic Branching Exchange.
Security becomes extensive when every hand joins the other. Electronic Private Automatic Branching Exchange (EPBAX) is where we connect each section of your building to the other. Be it the conference hall, main entrance, meeting rooms or even floors, we connect everything through a central line and many extensions. Different models provide exhaustive services that allow you to communicate as you like. Services:
Conference Calls
Call Forwarding
Do Not Disturb
Direct Call Landing
Voice Mail
Auto Answer